"In the end there doesn't have to be anyone who understands you. There just has to be someone who wants to." – ROBERT BRAULT
Perhaps you've just entered a relationship with your significant other and are experiencing a rough patch—or perhaps you want to retain the healthy, positive conditions that currently exist between you and your partner.
Maybe you've been with your partner for a while and are looking for somewhere to turn before your current relationship struggles escalate.
No matter the situation, you've come to the right place.
This eBook guides you through a series of tips on strengthening your relationship with your partner, no matter the stage of your relationship, through the ever-important skills of conflict resolution and communication.
If you've ever had an argument (or, dare I suggest, a full-out fight) with your partner, you know how frustrating the old advice of "just talk it through" can be. It's definitely easier said than done!
Covering tips that you may be expecting but are having trouble implementing fully into your own life (compromising) as well as those that you may not have considered (mirroring your partner's body language), this eBook is a revolutionary and thorough guide to working through conflicts with your romantic partner.
Maybe you find yourself getting into arguments, breaking things off to recover, and then getting back together only to start the cycle over again.
You and your partner crave a solid, steady relationship, but you think that this could be impossible, or at least you know that you have no idea how to get there.
Or maybe this situation isn't true for you yet, but you fear that it could soon be your reality if things continue on their current trajectory—whether this eBook is the first resource you've turned to or is your last resort, we promise that it will be your last—because you'll discover all the solutions you've been craving and the answers you've been looking for within your pages!
This eBook is beautifully designed and logically laid-out in order to foster the most success in your relationship. It also features interactive content for you to better engage with the material, such as worksheets for you and your partner to fill out together.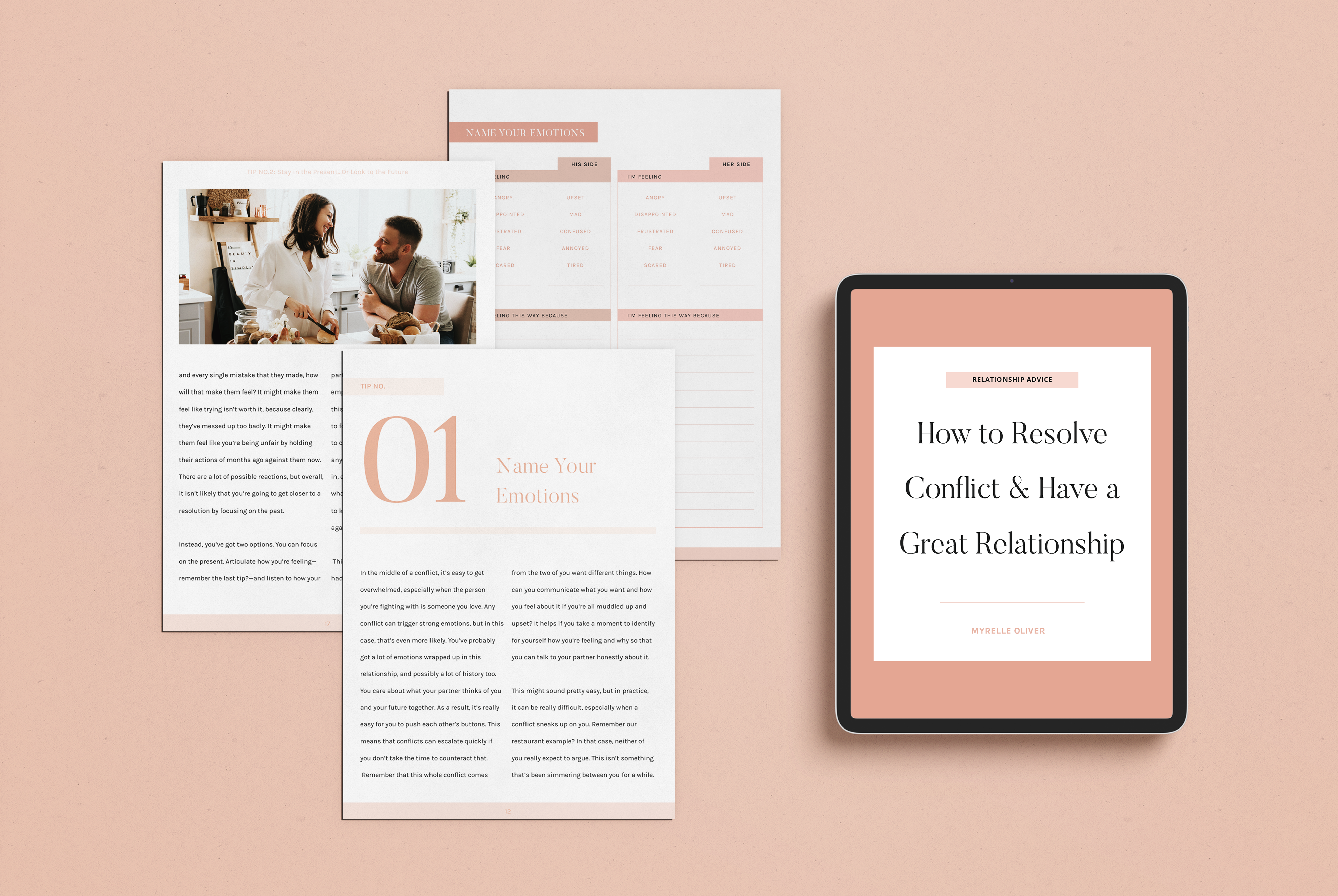 What you get:
- Digital product (download it immediately to your phone, laptop, or computer)
- 40+ pages of E-Book
- Worksheets to work on together with your partner
FAQ's
1. Do I get a physical book?
This is a digital product. There will be no physical book mailed. But if you can print the E-Book at home or at a printing company.
2. How long do I have access to the course?
LIFETIME ACCESS! Yep, you read that right. You can access this ebook for as long as you'd like. If you have any questions before purchasing, please email us before you purchase.
3. What is your refund policy?
Because this is a digital product, there are no refund after purchasing. If you have any questions before purchasing, please email us before you purchase.